These TREND BBQ Thermometers the same models used in large chemical, pharmaceutical and industrial plants and are made to the same exacting standards. the only difference is a special dial that has the ranges for SMOKING, BAR-B-Q, and GRILLING marked on it.
Please note that these have a 1/2" National Pipe thread (NPT) and will need a 0.85 +/- 0.04" hole to go through the cover. A 1/2" electrical conduit nut can be used to hold the thermometer in place.


Click to enlarge
Model 33 with Special BBQ Dial
3" Dial
2.5" or 4" stem lengths in stock
Range 50 to 500 Deg F
Glass Crystal
1/2" NPT connection
(6" stem lengths are available 2-3 week delivery)
Case: 304 Stainless Steel
Dial: Anti Parallax, heavy gauge aluminum with matt finish with moisture tight seal
Stem: 304 stainless steel, TIG welded at tip and case connection, 1/4" diameter stem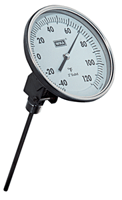 Deluxe Model 52 with Special BBQ Dial
This thermometer offers a large 5" Dial with an adjustable head that can be set at any angle.
The 4" stem give a more accurate temperature reading for large smokers and grills
Stainless Steel Case
Zero can be reset if necessary
Case: 304 Stainless Steel
Dial: Anti Parallax, heavy gauge aluminum with
matt finish
Moisture tight seal
Stem: 304 stainless steel, TIG welded at tip and case connection, 1/4" diameter stem