Robershaw Capacitance Level products
Model 5100 Level Lance
The can be used to measure the level of liquids and solids in a variety of tanks, bins, totes etc. These products are based on measuring the capacitance between a probe and the wall of the vessel. These are also classed as RF ( Radio Frequency) Admittance, RF Impedance level measuring devices. Robertshaw provide Control Units and Probes for Single Point, Multipoint ( two points on a single probe ) and Continuous ( 4-20ma current output). The continuous level measurement can be used with 4-20ma alarms to generate multiple alarms from a single probe. Units are avalable with general purpose enclosures and explosion proof enclosures for hazardous areas.
These units all require a capacitance probe to operate. See Probes
Level Lance Model 5100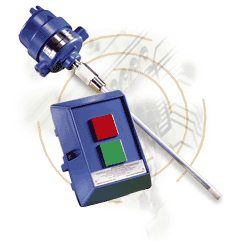 The Robertshaw Model 5100 Level-Lance is a microprocessor based, advanced technology On-Off level detection instrument. By utilizing the microprocessor, the device can be calibrated without screwdriver adjustments or knobs to turn. The simplicity of the "Auto Set" calibration is the ultimate in level control ease of adjustment. The Model 5100 has eight (8) separate and individual programs preprogrammed into its memory. These programs let the user select the "type" of On-Off control action best suited for the application. The eight programs are field selectable by means of a 10 position rotary switch.
FEATURES AND BENEFITS
Microprocessor Based.
Auto-Set Calibration
Calibration Data Retained on Loss of Power (no battery required)
Digitally Set time delays.
Selectable Fail-Safe Modes.
Eight Pre-programmed Control Modes (user selectable).
Built in self diagnostics.
Optional Status Indicating Lights (Rain tight version only).
Optional Explosion-Proof Enclosure.
No Special Cables (Transmitter can be located up to 1 mile from the receiver using standard twisted pair instrument wire).
Utilizes Robertshaw's Patented PFM Transmitter Technology.
Supports Robertshaw's Short-Stop Probe for tough applications where product buildup or coating occurs.
Intrinsically Safe PFM Transmitter, UL/C-UL listed (Non Short Stop version only).