Robertshaw Model 304B Capacitance Level Switch
Please note that this model is no longer being manufactured, the Model 5318 or Model 314B is a good starting point to look for replacements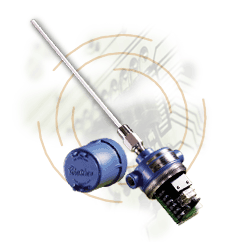 The Robertshaw Model 304B Level-Tek is an all electronic, RF, capacitance-actuated, on-off control instrument for detecting predetermined product level changes in tanks, sumps, silos, and other vessels or containers. Products may include liquids, powder, granular, lump and flake materials (conductive or non-conductive).

Housed in a CSA Certified explosion-proof and dust-tight enclosure, the Model 304B is self-contained and features the use of integrated circuits to insure long-term stability, reliability, and reduced maintenance. Control action is provided through contacts of a DPDT dust-tight plug-in relay. The instrument is available with a choice of three supply voltages, and has adjustable differential (dead band) and adjustable time delay.
FEATURES AND BENEFITS
Versatile - Suits Many Applications
Explosion-proof and dust-tight with wide temperature limits. Choice of supply voltages. Adjustable differential and adjustable time delay are standard.
All Solid-State Construction -
Use of integrated circuits insures long-term stability, reliability, and reduced maintenance.
Simplified Installation -
Self-contained unit may be oriented in any position. Mounts directly on installed Robertshaw Probe Assembly, connected to probe element by rugged disconnect pin.
Field Selectable Operational Modes -
High or low fail-safe operation established by means of screw-connected mechanical links.
Ease of Calibration and Adjustment -
Built-in solid-state light aids in calibration (no external meter required). All adjustments are continuous by means of sealed potentiometers.
Convenient Design for Wiring and Maintenance -
Plug-in chassis assembly provides easy access to wiring and terminal board. Control relay is of rugged dust tight plug-in design.
CSA Certified
See Specifications.