Robershaw Capacitance Level products
Robertshaw Model 5000A level transmitter
The can be used to measure the level of liquids and solids in a variety of tanks, bins, totes etc. These products are based on measuring the capacitance between a probe and the wall of the vessel. These are also classed as RF ( Radio Frequency) Admittance, RF Impedance level measuring devices. Robertshaw provide Control Units and Probes for Single Point, Multipoint ( two points on a single probe ) and Continuous ( 4-20ma current output). The continuous level measurement can be used with 4-20ma alarms to generate multiple alarms from a single probe. Units are avalable with general purpose enclosures and explosion proof enclosures for hazardous areas

These units all require a capacitance probe to operate. See Probes
Model 5000A Microprocessor µP "Level Lance"
This unit is no longer in production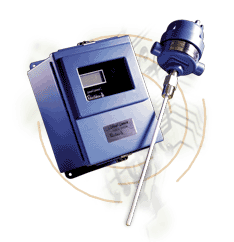 The Robertshaw Model 5000A Level-Lance is a microprocessor based indicator/controller employing a pulse frequency modulation (PFM) measuring system. Changing level conditions at the sensing probe cause a change in the pulse frequency output of the miniature transmitter that is normally mounted directly on the sensing probe. This pulse frequency is detected by the remote mounted indicator/controller and converted to a signal that is proportional to the level being measured. This resultant level signal can be:

a. Displayed on the instrument door by means of 4 digit LCD display reading in percent or engineering units field selectable.

b. Retransmitted via a 4-20 mADC output signal. This optional signal is campatible with all common receivers used for recording, indication, or control purposes.

c. Used to communicate with a larger computer via 20 mA loop. The Model 5000A continuously sends product level information to the larger computer.
Auto-Set - Automatic calibration
Calibrate without completely emptying and filling vessel.
Field Selectable Control Mode Programs.
Duplex Alarm Relays.
Digital Display - Percent or engineering units.
Field Reversible Output.
Uses Standard Two-Wire Cable - Up 1 mile between probe system and the indicating controller.
NEMA-4, 4X, or Explosion-Proof Enclosures.
Self-Diagnostic - Indicates out of calibration, sensor failure, etc.
Calibration Retained via Battery Back-Up on Loss of Power.
Linearization Optional for Level to Volume/Flow Conversion.
UL/C-UL Listed Transmitter

WARNING: Cancer and Reproductive Harm - www.P65Warnings.ca.gov