WARNING: Cancer and Reproductive Harm - www.P65Warnings.ca.gov
Robershaw Capacitance Level products
Model 5400A, ON/OFF Level System
The can be used to measure the level of liquids and solids in a variety of tanks, bins, totes etc. These products are based on measuring the capacitance between a probe and the wall of the vessel. These are also classed as RF ( Radio Frequency) Admittance, RF Impedance level measuring devices. Robertshaw provide Control Units and Probes for Single Point, Multipoint ( two points on a single probe ) and Continuous ( 4-20ma current output). The continuous level measurement can be used with 4-20ma alarms to generate multiple alarms from a single probe. Units are avalable with general purpose enclosures and explosion proof enclosures for hazardous areas.
These units all require a capacitance probe to operate. See Probes
Level-Lance Model 5400A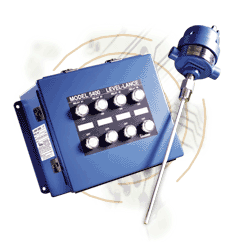 The ROBERTSHAW Level-Lance Model 5400A is a microprocessor based, multi-point On-Off capacitance type level detection system. Utilizing the Pulse Frequency Modulation (PFM) method of signal transmission ensures that accuracy, repeatability and longevity are enhanced over level systems using conventional analog transmission schemes. The PFM transmitter, normally mounted directly on the sensing probe, requires no calibration or adjustments of any kind. The control unit can be mounted up to one mile from the PFM transmitter without requiring any special type of interconnecting wire or cable. Two wires are all that is required. The PFM transmitter does not require any primary power because it receives its operating power from the control unit over the same two wires used to transmit the level signal.

The PFM transmitter is also designed to provide electrostatic protection at the probe input. It transmits a frequency modulated pulse signal to the microprocessor based control unit. The variation in the frequency of the pulse is proportional to the product level on the sensing probe. The microprocessor in the control unit receives the pulse and processes it to extract the level information. The microprocessor then compares this level information to the "AUTO-SET" calibration data stored in the non-volatile memory. When the level data coincides with this previously stored data, the appropriate output relay is either activated or deactivated, to give the desired control action. The total system design has been optimized to yield the highest possible levels of both EMI and RFI rejection.

The Model 5400A Level-Lance is calibrated by means of the "AUTO-SET" feature. This feature permits all calibration of the unit to be done by the simple act of pushing a button.

The Model 5400A Level-Lance is designed with plug-in type relay output modules to allow for easy configuration changes. Relay outputs can be added or removed in the field by the user. The control unit has the capability of having up to four relay output modules installed. The PFM input is optically coupled for better noise immunity.
FEATURES AND BENEFITS
Microprocessor Based
"Auto-Set" (Pushbutton Calibration)
Modular Construction
Multi-Point Control (1-4) Relays, Using Only One Sensor (Probe)
Economical, Cost Much Less Than 4 Individual Controls
Up To 1 Mile Signal Transmission Between Probe/PFM & Control Unit Using 2 Plain Wires
Independent Time Delay and Adjustable Differential For EACH Relay
Lead/Lag Feature For Automatic Pump Alternation
Heavy Duty 10 Amp Relays
Self-Diagnostics With LED Failure Indication
Designed For Maximum EMI and RFI Rejection
Optical Isolation Between PFM and Controller
Non-Volatile Calibration Memory
Optional Indicating Lights
Optional AC or DC Supply Power
Optional Enclosures (NEMA 4, 4X or Explosion- Proof
UL and c-UL Listed