WARNING: Cancer and Reproductive Harm - www.P65Warnings.ca.gov
Robertshaw Vibration Monitor Model 365A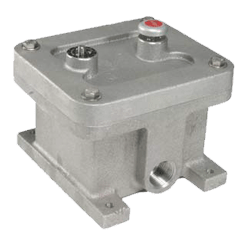 The Model 365A, E365A vibration switch is an acceleration sensitive instrument for hazardous environments that measures the total acceleratory shock present on the machine and will be triggered when the total acceleration exceeds its designated threshold.

Model 365A:

Class I, Div. 1, Group B, C & D

Class II, Div. 1, Group E, F & G

Enclosure 4 or 4X;

Class I, Zone 1, AEx d IIB+H T6;

Ex d IIB+H T6; IP66

Description
The Model 365A, E365A vibration switch provides protection for large motors, pumps, compressors, and other rotating equipment by alerting the user to excess vibration. Failing bearings, bent shafts, broken blades, over-speeding and similar malfunctions cause increased imbalance or high frequency vibration detectable with the model 365A vibration switch. The instrument may be wired to actuate an alarm or cause a shutdown before costly damage occurs. The switch is designed for maintenance-free service in permanent installations.

Acceleratory measurements made by the vibration switch are the summation of all the individual accelerations giving a total destructive force acting on the machine - the result is positive worry free protection.

With the growing use of computers, an increasing number of applications are coming into existence where a vibration switch will be connected to a computer or PLC. In these applications the voltage and/or current may be too low for standard contacts. For these applications the Model 365A and E365A may be supplied with an optional sealed switch with gold contacts.
Features & Benefits
Explosion Proof (Flame Proof)

UL & c-UL Certified (Model 365A) UL, c-UL & CE (ATEX) Certified (Model E365A)

Weather Proof

Type 4 & IP66 (all models) Type 4X (optional)

Reset

Remote electrical or manual at unit Either AC or DC voltages available

Optional Gold Contacts

For low voltage/current applications

Acceleration

Sensitive Measures destructive forces Minimum Maintenance

Reliable

No moving parts except at trip level
365A Ordering Codes
Ordering Code:
[Model] - [Switch Contacts_Remote Reset] - [Special Options]
Example 365A-A8
Model

365A - Vibration Swtich (Vibraswitch®), Weatherproof NEMA type 4 & 12 Enclosure Range: 0 - 4.5G
E365 - Vibraswitch, CE (ATEX) Certified for Europe, UL Certified for the U.S.A. & c-UL Certified for Canada

Switch Options

A - SPDT - Single pole, double throw load contacts
D - DPDT - 2 gang mounted SPDT load switches
G - DPDT – 2 gang mounted SPDT sealed switches with gold contacts for low voltage/current applications. Not CSA Certified

Remote Reset Voltage

0 - No reset coil
2 - 24 volt DC reset coil voltage
3 - 240 volt AC reset coil voltage. Not CSA Certified
4 - 48 volt DC reset coil voltage
7 - 120 volt DC reset coil voltage
8 - 120 volt AC reset coil voltage

Special Options

_ - No special options. Enclosure 4 & IP66, unpainted aluminum.
E - Enclosure 4X & IP66, exterior painted with gray epoxy enamel.
H - Space heater installed for maintaining internal area of unit moisture free. Space heater voltage same as reset coil voltage.
EH -Enclosure 4X & IP66, exterior painted with gray epoxy enamel, and space heater installed for maintaining internal area of enclosure moisture free.
H and EH options are not available with 366-D3 or 366-G3